Today we had a project in a quiet and tranquil neighborhood in Los Altos.  The day started out overcast, and the morning fog seemed to add to the solemn mood of installation crew after the disappointing outcome of the Super Bowl.
The home we worked on was a older home built in the 1970's.  Although not a large or extravagant house, its location placed the value of this home and surrounding neighboring homes well into the multi-million dollar range.  The homeowner had lived there a number of years, and had done some upgrades, but still had the original interior doors that were installed when the home was built.  Now he felt it was time to replace the interior doors and closet doors.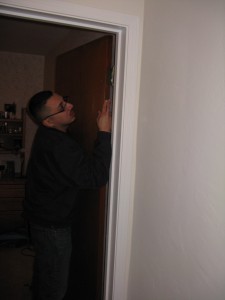 Those original doors were of the hollow brown-colored kind as shown in the photographs.  Their dark color seemed to dim the lighting of the rooms and hallways in the home.  Moreover, they were a telltale indication of the home's age and vintage.
Within an hour of our crew starting their work, the effect of the new doors was very evident.  The new doors seemed to brighten up the rooms and the hallways of the home.  Their impact was immediate and dramatic.
Replacing interior doors and closet doors is a great way to not only make a home more comfortable and livable, but also increase the value of the home.  A rather modest investment in new doors added potentially tens-of-thousands of dollars to the market resale value of this home.  That was quite evident for this homeowner, as it has been for the thousands of other home owners that we have served in the Bay Area.