We start by removing the pre-existing door framing
Pre-hung doors come with both door and door frame combined in a pre-made package.  Pre-hung doors can be installed into an existing opening or used to replace an existing door.   When replacing a pre-existing door the contractor must remove the previous door frame and trim before installing the already assembled door frame into the door opening.  Once the new pre-hung door in installed into the opening the casing and molding must be installed.
When replacing a pre-existing door a pre-hung door is a lot more labor-intensive compared to a retrofit door.  It also takes significantly more time to replace the door frame, and consequently a project to replace all doors in a home with new pre-hung doors can span multiple days.
Pre-hung Door vs. Retrofit Door
 In contrast, retrofitting a new door into the existing door frame involves merely removing the pre-existing door from its hinges and replacing it with a new door slab that has been measured and cut to fit the existing door frame.  Interior Door Replacement Company uses digital measurement technology and an automated door-cutting CNC machine to cut new retrofit doors to precise measurements, allowing for a new door slab to be retrofitted into an existing door frame in less than 15 minutes.
For general contractors, a door retrofit project (i.e., replacing only the door slab) can be almost as labor-intensive as installing a pre-hung door, but fraught with more uncertainty due to the irregular dimensions of many existing door frames.  For this reason, many general contractors will insist on installing pre-hung doors, even if the existing door frames are in perfectly good condition.  But for IDRC, the door retrofit process is extremely easy and cost-efficient due to our digital measurement and computer-controlled door cutting technology.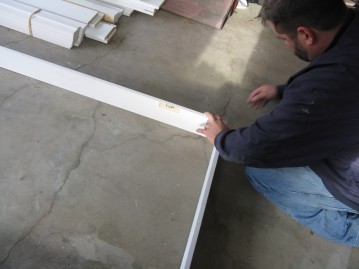 New door frames are custom cut and fitted to the exact measurements of the door opening
Why Consider Pre-hung Doors?
Since we assemble our own door frames, adjustments are easy to make if necessary
Particularly in older homes, the existing door frames may be rather plain looking, especially in a home that has been graced with elegant crown molding.  Installing pre-hung doors provides an opportunity to replace plain-looking door frames with more attractive and fashionable molding.  New door frames can add even more appeal and charm to a home, beyond that of just adding new doors.  We offer a number of different molding designs that fit the fashion and decor of a wide variety of home environments.
Another potential reason for pre-hung doors is that the existing door frames may have been damaged from abuse and/or movement and shifting in the home that naturally occurs over time.  For older homes, installing pre-hung doors provides an opportunity to once again have doors that are perfectly rectangular in shape.
The downside of pre-hung doors is the additional time and cost involved with not only installing the new door and door frame, but also in removing the pre-existing door frame. Installing pre-hung doors involves more mess and noise, and is more disruptive than just performing a door retrofit.
For many homeowners, a door retrofit is the preferable option.  IDRC's advanced digital measuring technology and computer-controlled door cutting machine makes a door retrofit a much more cost-efficient approach.  Our milling machine cuts and prepares each door to precise digital measurements, allowing our installation crews to replace each door within about 15 minutes.
Why IDRC For Your Pre-hung Door Needs?
Interior Door Replacement Company is the one-stop resource for all door replacement needs. Our experience and expertise provide our customers the option to choose from either pre-hung doors or door-only replacement approaches. In addition, we are the choice for many customers who need both pre-hung and door slab-only replacements. Because we are experts in both approaches, we can provide objective and professional advice to help our customers decide on the best approach for them.
In contrast, general contractors are not equipped with the advanced digital measuring technology that we possess.  To avoid the uncertainty and frustration involved with manually cutting and trimming a new door slab to exactly fit the irregular measurements of a pre-existing door frame, some contractors will automatically steer their customers to install pre-hung doors at a higher cost, even in homes with door frames that are in perfectly good condition.
New elegant molding is available in a variety of styles
Before and After Comparison
We are the largest and most established door replacement company serving the San Francisco-San Jose Bay Area