Today we had an opportunity to install 11 pre-hung doors at a home in Redwood City.  As is often the case, the customer is a repeat customer, having used IDRC to replace several interior closet doors back in 2009.  The owner commented that since we did such a good job, he decided to bring us back to replace the remaining interior doors.
This was a very nice home in the upscale residential area of Redwood City.  Most of
these homes were built in the 1970's, and this home was no exception.  This older home was beautifully decorated throughout with crown molding, which had an elegance that contrasted with the rather plain original door frames and casings.  So the owner decided to commission IDRC to replace not only the doors, but also the door frames and casings.
We arrived at the appointed time at 8:30am and immediately got started removing the old door frames and casings.  This is a very messy and destructive process, and we had to regularly sweep away the debris and dust in order to continue working.  Before long, most of the door openings had been stripped of their casings, revealing the supporting beams and drywall underneath.  We now had a hallway full of door openings with no door framing.  The place was somewhat of a mess.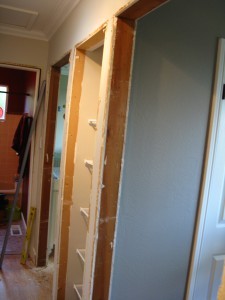 Jon the crew chief then quickly went to work measuring each door opening and custom-cutting new door framing and molding for each door opening.  This is the most time-consuming and tedious step, but one that is especially important.  Most contractors will take a shortcut and avoid this step by purchasing doors with pre-built door framing from the hardware store.  While this approach saves time, nevertheless it can lead to workmanship issues if the door openings don't match the dimensions of the pre-built manufactured door framing.
We installed the door framing, and then the moldings cut by Jon.  This process went remarkably smoothly and efficiently.  Before long, we had a row of beautiful doors with new moldings around each door frame, matching the elegant crown molding that was decorating the interior of the home.  After some cleanup, we had completed the transformation of the home within a period of less than six hours.  Here are some pictures that show what the home now looks like:
[one_half first]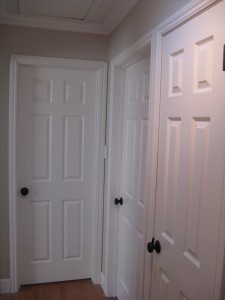 [/one_half] [one_half]
[/one_half]